As a Jazz Musician he has recorded with Jazz greats as: Dizzy Gillispie, Hampton Hawes, Sonny Stitt and Freddie Hubbard among others. He has produced and co-produced albums by Joe Turner, Pee Wee Crayton, Curtis Peagler, Maxine Weldon and Porgy and Bess with Cleo Lane and Stevie Wonder.
2003 has seen Washington Rucker as one of the featured musicians in the song "I Move On" nominated for the Academy Awards for Best Song in the Film "Chicago". Furthermore he appeared with his Quartet at the 2003 Ebony Fashion Show in Los Angeles. Washington's career is still moving forward. He produced Maxine Weldon's Album "The Singer" and his own Album "Bridging the Gap" under his own Label "Two Oaks Production". Currently he is producing and recording two new Albums.
Bridging the Gap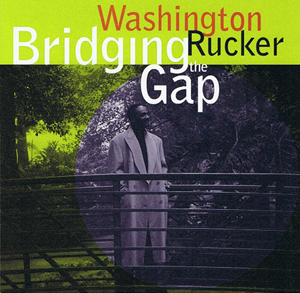 | | |
| --- | --- |
| 1. Billie's Bounce | |
| 2. Stella by Starlight | |
| 3. Lullaby of Birdland | |
| 4. Quiet Nights | |
| 5. Blues for Jimmy "Cry Cry" | |
| 6. Blues March | |
| 7. No greater Love Trio | |
| 8. Over at Jack's Place | |
| 9. Theme From Shaker Square | |
| 10. Lucky | |
| 11. She | |
| 12. The Velvet Dancer | |
Washington has built, for us, a bridge that spans the divide between the two banks of music that have been seemingly separated by time; Be Bop and Modern African American Music. With Bridging the Gap, he shows us the interconnectedness of Jazz from the fifties until now. In short, he's bridged the gap between the past and the present.

With Bridging the Gap, Washington creates a collective that brings together a gathering of musicians. First, there are the old tigers like Curtis Peagler, Art Hillary, Ernie Fields, Roy Brewster and Washington Rucker who have their roots in Be Bop and Swing. Next, there are the graying panthers like Ndugu Chancler, Oscar Brashear, John Boliver, John B. Williams, Greg Poree, as well as Kevin Brandon, their influences lay in the pop and modern jazz movement of the seventies and eighties. They are followed by the young lions like Rastine Calhoun and Elliot Douglas. Finally, there are the consummate song styling of the "singer's singer" Ms Claydene Jackson Edwards who provides the vocal link between the Jazz and Pop worlds.

The Be Bop numbers on this CD were all recorded live Over at Jack's Place giving further authenticity to the era. Washington's original popular pieces were recorded in the studio, thereby joining two engineering techniques as well.
The other side of me
- my words ... my music ... my voice

| | |
| --- | --- |
| 1. My Ballerina | |
| 2. Body Dancing | |
| 3. The Colors of the Faire | |
| 4. Don't you wanna dance a little bit longer | |
| 5. A Drummer's Lullaby | |
| 6. Live Jones | |
| 7. Lucky | |
| 8. Midnight Sun | |
| 9. She | |
| 10. She (Different Version) | |
| 11. Forest Dance | |
| 12. Lucky (w/ Clydene Jackson feat. Curtis Peagler | |
"Over the years I have played with some of the greatest singers of my generation. In doing so I have always had a desire to express myself in word and melody as well as from behind the drum set. I have secretly wanted to be one of the ones who holds the mike and sing the songs that I wrote. Now is the time.
Many songs in this collection are the result of experiences, thoughts, or just a desire to say something in melody. Most of my songs are inspired by "hearing" rhythms and adding melodies to them.
I have the pleasure of working with many of the great pop musicians throughout my career and have asked some of them for input into my songs. They have all enthusiastically helped me to put forth this presentation of my material. Larry Farrow, Marlo Henderson, the late Charles Mallory,Randy Randolph and King Errison are among the several arrangers/musicians that I owe a great amount of gratitude. These are all first class musicians/arrangers who helped me realize my dream. Larry and Marlo and King have graced the tracks of music of most of the great artists in the pop/jazz era Ndugu Chancler cracked the whip more than once to encourage me to do this as well as to show case my talent with the art of playing brushes. Enjoy my songs and know that there is a story behind each of them and hopefully there are more to come."
Washington I. Rucker
Selected Discography
Porgy and Bess:
featuring Ray Charles and Cleo Laine, Rev. James Cleveland
And his Gospel Choir, Conducted by: Frank Devol – String Orchestra
Joe Turner meets
the Trumpet Kings:
featuring Joe Turner, Dizzy Gillispie, Roy Eldrige, Clark Terry and Harry "Sweets" Edison
Midnight Special:
Joe Turner featuring Pee Wee Crayton, Sonny Stitt and Band
Hampton Hawes:
Live at the Baked Potatoe, featuring Carol Kaye, Washington Rucker, Hampton Hawes
Curtis Peagler:
For Basie and Duke
Linda Hopkins:
Me and Bessie
Maxine Weldon:
The Singer (Producer, Leader, Composer)
Jake Porter:
Dixie Land Jazz…It's about Time-La Paz
Babs Gonzalez:
Jazz for Radio Free Europe, Copenhagen, Munich
The Beach Boys
Freddie Hubbard:
Live in Hong Kong, Convention Center
Bobbie Timmons:
The Return and Christmas BeBop
Selected Jazz Venues
| | | |
| --- | --- | --- |
| Location | Country | |
| Momontre Jazz Club | Copenhagen, Denmark | with Dexter Gordon and Ben Webster |
| Zambazi's Jazz Club | Rome, Italy | Stevie Wonder World Tour |
| Ronnie Scott's Jazz Club | London England | |
| Jaylin's Jazz Club, Hotel Schweizerhof | Berne, Switzerland | |
| Marian's Jazz Club | Berne, Switzerland | |
| Birdwatcher Jazz Club | Lausanne, Switzerland | |
| Maria Isabella Hotel | Mexico City, Mexico | Nancy Wilson |
| Baked Potato | Hollywood, California, USA | |
| Dante's Jazz Club | North Hollywood, California, USA | |
| Chadney's Burbank | California, USA | The Jazz Collection - Washington Rucker |
| Lionel Hampton Jazz Room | Paris, France | Maxine Weldon and Linda Hopkins |
| Jazz Tour | Sapporo, Tokyo, Japan | Nancy Wilson |
| Jazz Tour | Hong Kong, Kowloon, China | Nancy Wilson |
| Jazz Tour | Amsterdam, Netherlands | 1995-1996, Linda Hopkins |
| Jazz and Blues Europe Tour | Europe | 1997-2000, Linda Hopkins and Maxine Weldon |
| Satchmo –The Life of Louis Armstrong | Germany | |