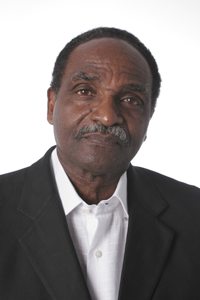 Washington Irving Rucker was born in Tulsa, Oklahoma on March 5th, 1937 and attended local schools. He graduated from Booker T. Washington High in 1955. Using a knife, a fork and an old black skillet, he developed a talent for the drums.
"From his humble beginnings in Tulsa where he was rejected from the Junior High School Band, he used this experience to propel himself to work even harder at his ambition which was playing the drums. He rose to be the first drummer in his hometown to be awarded the prestigious Superior Award and the highly competitive Oklahoma Negro Band Association festival. Later, at the U.S Navy School of Music his musical career soared. He served as the first black drum instructor at the music conservatory upon graduation. Rucker has been called a "Renaissance Man" by virtue of his many Dress Design School and finally a degree in Letters of Science from UCLA (where he won the Frank Sinatra Award for Jazz/Pop music in " 81). Along the way he began to chronicle his journey in an effect to "keep anybody from saying things that were not true about my career once I'm gone" and thus Jazz Road began its journey. Rucker encourages all musicians to write their unique stories as they make up the pallet which is part of the entire jazz quilt that so many contribute to yet fail to write down, leaving gaps in the rich history of jazz. The torch was passed on to him by a diminutive drummer Clarence Dixon, in a small community South Haven, outside of Tulsa who said to Rucker: "This pair of sticks will take you all over the world" This became his mantra and Jazz Road opened the way. And the words have become reality."
Bob Delegall
Washington Rucker's career is still moving forward with two jazz projects going currently. He is working on a book for children "color me jazzy" and is currently working on producing a Jazz CD for Kim Hoyer, a new Talent in the LA Jazz Scene.
As a Jazz musician and an educator he is actively involved locally and internationally in America's Art Form Jazz.